Prof. Dr. Dorothea Wagner
Lehrstuhlinhaberin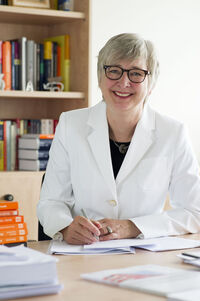 Karlsruher Institut für Technologie (KIT)
Institut für Theoretische Informatik
D-76128 Karlsruhe

Neuigkeiten
Übersichtsartikel über "Route Planning Algorithms":

H. Bast, D. Delling, A. V. Goldberg, M. Müller-Hannemann, T. Pajor, P. Sanders, D. Wagner and R. F. Werneck. Route Planning in Transportation Networks. MSR-TR-2014-4

. Überarbeitete Version unter

http://arxiv.org/abs/1504.05140

, erschienen in: Algorithm Engineering - Selected Results and Surveys, volume 9220 of Lecture Notes in Computer Science, 19-80. Springer, 2016.
Aktuelle Aktivitäten