Prof. Dr. Dorothea Wagner
Head of the institute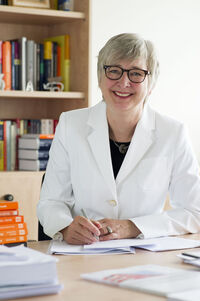 Karlsruhe Institute of Technology (KIT)
Institute of Theoretical Informatics
D-76128 Karlsruhe, Germany

News
Survey on Route Planning Algorithms:

H. Bast, D. Delling, A. V. Goldberg, M. Müller-Hannemann, T. Pajor, P. Sanders, D. Wagner and R. F. Werneck. Route Planning in Transportation Networks. MSR-TR-2014-4

,

Revised version

. In: Algorithm Engineering - Selected Results and Surveys, volume 9220 of Lecture Notes in Computer Science, pages 19-80. Springer, 2016.
Topical Activities
Invited Talk

March 2016 at

EuroCG'16

, EuroCG'2016, Lugano, Switzerland; my keynote talk at

AAAC'2016

in May 2016 at NTU Taipeh, Taiwan, was more or less identical.