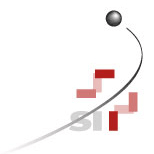 Die Nominierten

Dr. Andrés Bruhn, Universität des Saarlandes
"Variationelle Optische Flussberechnung - Präzise Modellierung und effiziente Numerik"
Dr.-Ing. Erik Buchmann, Otto-von-Guericke-Universität Magdeburg
"Erkennung und Vermeidung von unkooperativem Verhalten in Peer-to-Peer-Datenstrukturen"
Dr. Görschwin Fey, Universität Bremen
"Increasing Robustness and Usability of Circuit Design Tools by Using Formal Techniques"
Dr. Kilian Foth, Universität Hamburg
"Hybrid Methods of Natural Language Analysis"
Dr. Gereon Frahling, Universität Paderborn
"Algorithms for Dynamic Geometric Data Streams"
Dr. Tobias Frank, TU Bergakademie Freiberg
"Advanced Visualization and Modeling of Tetrahedral Meshes"
Dr. Stefan Frenz, Universität Ulm
"Zuverlässiger verteilter Speicher mit transaktionaler Konsistenz"
Dr. Arnulph Fuhrmann, TU Darmstadt
"Interaktive Animation textiler Materialien"
Dr. Torsten Gipp, Universität Koblenz-Landau
"Functional Web Site Specification"
Dr. Jiong Guo, Friedrich-Schiller-Universität Jena
"Algorithm Design Techniques for Parameterized Graph Modification Problems"
Dr.-Ing. Klaus Herrmann, TU Berlin
"Self-Organizing Infrastructures for Ambient Services"
Dr. Daniel Keysers, RWTH Aachen
"Modeling of Image Variability for Recognition"
Dr. Stefan Kral, TU Wien (beim Kolloquium nicht anwesend)
"FFT Specific Compilation on IBM Blue Gene"
Dr. Jens Krüger, TU München
"A GPU Framework for Interactive Simulation and Rendering of Fluid Effects"
Dr. Sven Overhage, Universität Augsburg
"Vereinheitlichte Spezifikation von Komponenten: Grundlagen, UnSCom Spezifikationsrahmen und Anwendung"
Dr. Daniel Reidenbach, TU Kaiserslautern
"The Ambiguity of Morphisms in Free Monoids and its Impact on Algorithmic Properties of Pattern Languages"
Dr. Andreas Schäfer, Carl von Ossietzky-Universität Oldenburg
"Specification and Verification of Mobile Real-Time Systems"
Dr. Frank-Michael Schleif, TU Clausthal
"Prototype based Machine Learning for Clinical Proteomics"
Dr. Dominique Unruh, Universität Karlsruhe
"Protokollkomposition und Komplexität"
Dr. Manish Verma, Universität Dortmund
"Advanced Memory Optimization Techniques for Low-Power Embedded Processors"
Dr.-Ing. Christian Werner, Universität Lübeck
"Optimierte Protokolle für Web Services mit begrenzten Datenraten"
Dr. Simon Winkelbach, TU Braunschweig
"Das 3d-Puzzle-Problem"